Lo más leído
Donziger Denies NY Judge's Criminal Contempt Allegations
Law 360 06/08/2019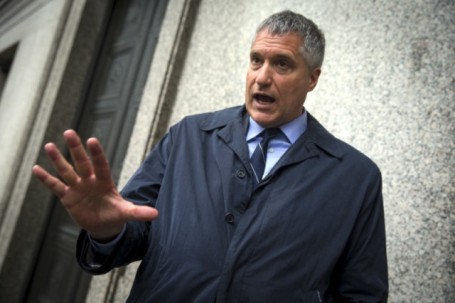 Law360, New York (August 6, 2019, 3:32 PM EDT) -- Attorney Steve Donziger on Tuesday denied allegations of criminal contempt lodged against him by Manhattan U.S. District Judge Lewis L. Kaplan related to Donziger's alleged willful failure to comply with court orders in a legal battle with Chevron Corp.

At a highly unusual arraignment before Manhattan U.S. District Judge Loretta A. Preska, the 57-year-old Donziger denied six contempt counts drawn up in a July 30 order by Judge Kaplan. Judge Preska ordered Donziger to surrender his passport, submit to location monitoring and post an $800,000 secured bond. His next court date is Aug. 28.

"We are in a brave new world now," Judge Preska said, explaining her rationale for the tough bail conditions. "He is facing jail time."

Judge Kaplan's order says that Donziger has not complied with his civil-court orders directing the defendant to provide access to his computers, phones, email and social media accounts for forensic inspection. Judge Kaplan has largely sided with Chevron, which claims that Donziger used fraud in obtaining a $9.5 billion oil pollution judgment in Ecuador against the $226 billion energy giant.

Judge Kaplan previously held Donziger in civil contempt and has hit him with heavy fines. According to court filings the Manhattan U.S. attorney's office declined Judge Kaplan's request to prosecute Donziger, saying it has more important priorities. That caused Judge Kaplan to refer the allegations to Seward & Kissel LLP, a private law firm, for prosecution.

The criminal allegations are the latest wrinkle in a long fight that began in Ecuador, where some 30,000 people said they'd been hurt by environmental pollution caused by a Chevron predecessor. Judge Kaplan ruled in 2014 that the Ecuador judgment was ghostwritten by Donziger and was the product of bribery in the South American nation. That decision was affirmed by the Second Circuit.

Since then Chevron has pressed its fraud allegations against Donziger even as Donziger has traveled internationally seeking to enforce the massive judgment in other jurisdictions. On Tuesday Donziger, who reacted to Judge Kaplan's criminal contempt referral with an Aug. 1 Twitter message calling him a "Chevron partisan," unsuccessfully tried to adjourn the proceeding before entering a not guilty plea.

"I am not trying to cause any trouble here," Donziger said "I need counsel. I feel very vulnerable right now, standing here unrepresented."

A standby lawyer, George Goltzer, was appointed to consult with Donziger for the purposes of arraignment and bail.

Goltzer and Donziger both pushed back against a recommendation by U.S. pretrial services that Donziger surrender his passport and submit to GPS tracking, but Judge Preska said the evidence against the defendant appears "very strong." Judge Preska noted also that Donziger has made seven trips to Ecuador in the past two years.

"Ecuador does not have, say, a reliable extradition process with the U.S.," said Seward & Kissel partner Rita Glavin, who is handling the contempt prosecution.

Donziger said he is making arrangements to hire a criminal counsel on a pro bono basis. He apparently has assets, which he described Tuesday as having "zero liquidity," which nevertheless may prevent him from accessing cost-free counsel under the Criminal Justice Act. Donziger said he has liabilities to include "several million dollars" owed to Chevron. But, he said, he is challenging most of that in the Second Circuit.

Goltzer told Judge Preska that Chevron, which has obtained asset freezes against Donziger, "probably knows more about his assets than he does." Goltzer also rejected the idea that Donziger is a flight risk or a danger to the community.

After the hearing Donziger, Goltzer and Glavin declined to comment.

Counsel for Chevron, Randy Mastro of Gibson Dunn, also declined a request for comment.

The contempt charge is being prosecuted by Rita M. Glavin, Brian Maloney and Sareen Armani of Seward & Kissell LLP.

Donziger represents himself. He was joined Tuesday by standby counsel George Goltzer.

Criminal case information was not available.

The civil case is Chevron v. Donziger, case number 1:11-cv-00691, in the U.S. District Court for the Southern District of New York.
Fuente Original
Compartir: