Lo más leído
Donziger On Track For June Criminal Contempt Trial
Law 360 - Pete Brush 05/12/2019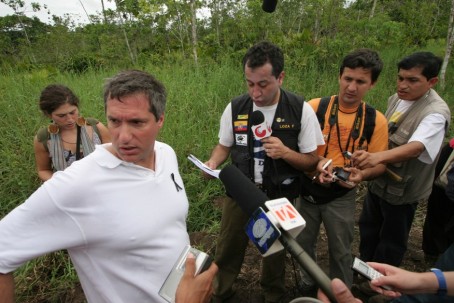 A Manhattan federal judge on Wednesday set a June date for attorney Steven Donziger to stand trial on criminal charges lodged by another judge alleging Donziger willfully flouted court orders in his civil legal battle with Chevron Corp.
U.S. District Judge Loretta A. Preska, who is handling the criminal order to show cause drawn up by Manhattan U.S. District Judge Lewis A. Kaplan in July, penciled in June 15 for what possibly could be a bench trial.
Donziger has denied guilt on six criminal contempt counts in Judge Kaplan's order, which says Donziger has not complied with orders directing him to provide access to computers, phones, email and social media accounts for inspection in Chevron's 2011 civil case against him alleging fraud.
The lengthy and unusual battle between Chevron and Donziger stems from his role in landing a $9.5 billion environmental judgment against the oil company in 2011 in Ecuador. The judgment stemmed from allegations that Chevron predecessor Texaco Inc. contaminated the Amazon rainforest.
But Judge Kaplan ruled for Chevron in 2014, finding Donziger manipulated the Ecuadorean judicial system through bribery and fraud, and blocked the $9.5 billion judgment.
As Donziger continued to try to enforce the judgment, Chevron and its Gibson Dunn & Crutcher LLP lawyers stayed on the offensive, pressing the court for sanctions and contempt findings. That effort led to Judge Kaplan's criminal contempt order.
In court Wednesday, the sides agreed to set aside the June date amid an ongoing dispute over whether Donziger, who currently is confined to his residence, is a flight risk.
Donziger's lawyer, Andy Frisch, pressed Judge Preska to allow his client outdoors during business hours, possibly with a curfew. Frisch said Donziger has no ability or desire to flee.
"He is completely engaged in this and wants a trial to establish his innocence," Frisch said.
Attorney Rita M. Glavin, who is prosecuting Donziger, has not agreed to that request. She asked for time to respond to the renewed oral motion.
Judge Preska indicated a willingness at least to consider looser bail conditions. She also is to decide whether the charges against Donziger amount to a misdemeanor case, which could be handled via a bench trial.
Frisch said Wednesday the case is "properly treated as a misdemeanor," citing Glavin's Nov. 21 letter that says "the prosecution does not intend to seek more than six months' imprisonment if Mr. Donziger is convicted."
The question of how much time Donziger could face — and whether he faces felony or misdemeanor sanctions — also has the theoretical potential to take the case off the trial track.
"There's always a possibility of a disposition in any case," Frisch told the judge.
The sides are due back in court on Jan. 6.
Counsel declined to comment after the hearing.
The contempt charge is being prosecuted by Rita M. Glavin, Brian Maloney and Sareen Armani of Seward & Kissell LLP.
Donziger is represented by Andy Frisch.
The case is U.S. v. Donziger, case number 1:19-cr-00561, in the U.S. District Court for the Southern District of New York.
Fuente Original
Compartir: