Lo más leído
Dozinger Still A Flight Risk, Judge-Appointed Prosecutor Says
Embattled attorney Steve Donziger remains a flight risk and shouldn't get his home confinement restrictions loosened as he faces contempt charges, a court-appointed prosecutor told a New York federal court in recent days.
Law360 - Andrew Strickler 18/11/2019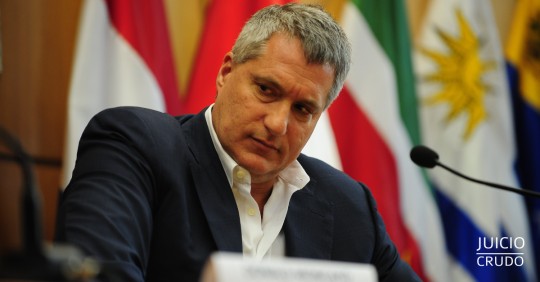 The prosecutor, Rita Glavin of Seward & Kissel LLP, said Donziger is still stonewalling a March court order that underlies one of the criminal charges he's facing and is thus in "willful" violation of federal law and the conditions of his pretrial release.
And despite his counsel's promises that Donziger has a long list of people willing to co-sign his current $800,000 bond, none of the circumstances that led the court to restrict him to his Manhattan apartment under electronic monitoring have changed.
"Donziger's defiance demonstrates his belief that he is above the law and that only he decides if and how he will abide by court orders," Glavin said in a Wednesday filing. Her letter opposes a recent request filed by Donziger's counsel for the elimination or loosening of his home confinement restrictions.
"Mr. Donziger has always enjoyed support from others, even as he has refused to comply with court orders and engaged in fraud and corruption to obtain a court judgment," Glavin said.
The home detention issue is a small skirmish in a lengthy and unusual battle between Chevron Corp. and Donziger over his role in landing a $9.5 billion environmental judgment against the company in Ecuador. The judgment stemmed from allegations that Chevron predecessor Texaco Inc. over decades destroyed natural resources and left indigenous residents diseased by crude oil dumped in the Amazon rainforest.
After a bitter Racketeer Influenced and Corrupt Organizations Act trial, U.S. District Judge Lewis A. Kaplan ruled that Donziger had manipulated the Ecuadorean judicial system through bribery and fraud, and he blocked the judgment's enforcement.
As Donziger continued post-trial to try to enforce the massive judgment in other jurisdictions, Chevron and its Gibson Dunn & Crutcher LLP lawyers stayed on the offensive, pressing the court for sanctions and contempt findings against him for violating a prohibition on profiting from the Ecuador award.
As part of a May contempt finding, Judge Kaplan agreed that Donziger had made at least $2.3 million by selling portions of his contingency stake in the judgment to investors, and ordered him to forfeit his claim to the award and repay some $666,000.
Judge Kaplan later issued a six-count criminal contempt order saying Donziger had not complied with orders to provide access to his computers and other devises for forensic inspection and broken an injunction against selling an interest in the judgement, among other issues.
In a June filing, Chevron said it was owed $663,000 — the outstanding balance from a $811,000 judgment issued in its favor early last year — plus $666,000 from Judge Kaplan's contempt order.
Separately, a New York judge in July signed a final $3.4 million attorney fee judgment against Donziger and his firm stemming from the ongoing case.
After the Manhattan U.S. attorney's office declined Judge Kaplan's request to prosecute Donziger, the judge referred the contempt matter out to Glavin and two other lawyers at Seward & Kissel for prosecution.
At an unusual hearing in August, U.S. District Judge Loretta A. Preska called the evidence against Donziger "strong" and said he would be facing jail time. Along with the $800,000 secured bond, Judge Preska ordered Donziger to surrender his passport and submit to GPS location monitoring.
Donziger was unrepresented at that hearing but has since retained Manhattan white collar defense attorney Andy Frisch to represent him. Frisch and Glavin are well known to each other, particularly through their respective defense roles in the Dewey & LeBoeuf LLP criminal case.
In his Nov. 4 letter to Judge Preska regarding Donziger's home confinement, Frisch said his client was "fully engaged" in his contempt case and ongoing bar discipline action, and had shown up at several hearings in recent months.
"We appreciate that Mr. Donziger's compliance with a judge's orders is at issue in this criminal case, which will be the subject of considerable discussion as we move forward," he said. "But those issues are separate from any flight risk, as Mr. Donziger has himself demonstrated since learning of the criminal charges."
Frisch and Glavin declined to comment on Friday. A messages left for Chevron counsel Randy Mastro of Gibson Dunn was not immediately returned.
The contempt charge is being prosecuted by Rita M. Glavin, Brian Maloney and Sareen Armani of Seward & Kissell LLP.
Donziger is represented by Andy Frisch.
The case is Chevron v. Donziger, case number 1:11-cv-00691, in the U.S. District Court for the Southern District of New York.
Compartir: