Lo más leído
The Lefty Media Come to the Aid of History's Champion Scammer
The #FreeSteven crusade conveniently ignores the copious evidence of Donziger's fraudulent schemes.
National Review - Jack Fowler 15/04/2021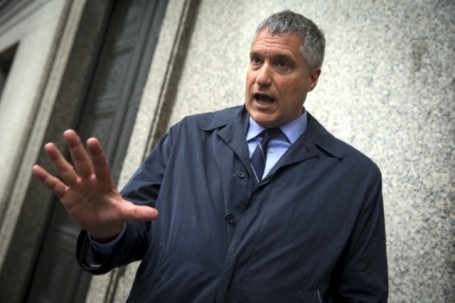 The Lefty Media Come to the Aid of History's Champion Scammer / Foto: Juicio Crudo
Have you heard about the big pity party? It's ongoing, virtual, and being held in honor of one Steven Donziger, the schemer extraordinaire and disbarred lawyer who nearly pulled off the legal fraud of the century.
Memory shaky? This was an epic bamboozle, where a crusading Big Green lawyer used courts in Ecuador to shake down Chevron for $18 billion. Yes, billion with a b. Sounds like it's worth celebrating, no?
That intrigue might have worked (and did) in corrupt Quito. But north of the Equator in U.S. courts, the administration of justice finally got the better of the hoodwinking and spotlight-craving attorney, even though he'd been championed by an adoring press. (Donziger had been ballyhooed by 60 Minutes. Heck, even conservatives such as Phelim McAleer and Jonathan Leaf put together a "verbatim theater production" about his ruse, using as dialogue the trial and deposition transcripts from Donziger v. Chevron Corp.)
The media still adore Donziger, especially now that he is in a world of deserved legal hurt: The media troops are rallying to #FreeSteven. And his electronic ankle bracelet.
Free Steven . . . from what?
A refresher before crashing the party: A decade ago, with the aid of bribes and forged documents and other things that fit neatly under the category "conspiracy," Donziger won a massive multibillion-dollar judgment against Chevron in Ecuador. The grounds were that the oil giants' precursor, Texaco, had not remediated oil fields and adjoining areas after the pumping was completed in the early 1990s — even though Ecuador officials signed off that the cleanup was conducted and concluded.
Chevron refused to pay, charged that the staggering judgment was bought and paid for, and fought back while Donziger and his (now-regretting) financial backers (alas, poor Patton Boggs) sought other legal venues to claim their payday.
Then came the evidence gusher: Outtakes of a documentary about the case, Crude, provided a staggering amount of proof of Donziger's scamming and scheming.
To a New York federal court the battle went, this time with Chevron on the attack. A cast of characters appeared from Ecuador, and many a gut was spilled — here a bribe, there a bribe, everywhere a bribe bribe. At the trial's conclusion, the presiding judge, Lewis Kaplan, a Clinton appointee well-versed in Cosa Nostra cases and operations, could not help but notice the coincidences. He dropped a 485-page payload on Donziger that found fraud and racketeering rampant:
Upon consideration of all of the evidence, including the credibility of the witnesses — though several of the most important declined to testify — the Court finds that Donziger began his involvement in this controversy with a desire to improve conditions in the area in which his Ecuadorian clients live. To be sure, he sought also to do well for himself while doing good for others, but there was nothing wrong with that. In the end, however, he and the Ecuadorian lawyers he led corrupted the Lago Agrio case. They submitted fraudulent evidence. They coerced one judge, first to use a court-appointed, supposedly impartial, "global expert" to make an overall damages assessment and, then, to appoint to that important role a man whom Donziger hand-picked and paid to "totally play ball" with the LAPs. They then paid a Colorado consulting firm secretly to write all or most of the global expert's report, falsely presented the report as the work of the court-appointed and supposedly impartial expert, and told half-truths or worse to U.S. courts in attempts to prevent exposure of that and other wrongdoing. Ultimately, the LAP team wrote the Lago Agrio court's Judgment themselves and promised $500,000 to the Ecuadorian judge to rule in their favor and sign their judgment. If ever there were a case warranting equitable relief with respect to a judgment procured by fraud, this is it.
Kaplan also ordered Donziger to pay Chevron's legal fees and to hand over his electronic devices to be investigated. The star of Crude refused.
That is called contempt, and when local federal prosecutors refused to act, Kaplan, employing a little-known and rarely used rule, appointed private counsel to prosecute the matter. Attorney Donziger — soon to be disbarred for his skullduggery — was ordered kept under house arrest at his New York City apartment.
And so United States v. Donziger was born. And so it awaits trial.
And the pitiers party.
The awaiting now approaches two years, delays and rescheduling occurring for numerous reasons: Counsels for Donziger refused to come to New York during the COVID pandemic, a lead attorney (who subsequently sued Donziger for his refusal to pay fees) removed himself as counsel, and Zoom trials were ruled verboten. As if there have not been enough theatrics, the infamous Ron Kuby, pupil of the infamous William Kunstler, has taken over Donziger's defense.
A May 10 trial date has been set. The odds of it happening are long. It is not the first trial date, and the way things have played out, it may not be the last.
Which will prolong only the pity party, something that accords with the sharpest of Steven Donziger's skills (besides orchestrating conspiracies in Ecuador): gaining media attention. As Judge Kaplan wrote in his 2014 ruling:
Donziger is intelligent, resourceful, and a master of public and media relations. An extensive public relations and media campaign has been part of his strategy from early days, and it continues. Among its objectives has been to shift the focus from the fraud on Chevron and the Lago Agrio court to the environmental harm that Donziger and the LAPs claim was done in the Orienté. Indeed, that was a principal focus of defendants' case at trial and of their post-trial briefing. But one should not be distracted from the issues actually presented in this case. [Emphasis in original.]
But distraction — from the racketeering, the fraud, the bribery, the greed (the lawyer's fees on the Ecuador court's judgment would have proven historic) — is the objective, and Donziger has many major left-wing publication showing up at his soirée to deliver copious and passionate accounts of him as a man so terribly wronged.
Who isn't among the carousers: Esquire, The Guardian, The Nation, Salon, Mother Jones, and other usual suspects are on hand, making much of the martyr-in-making's situation. His house arrest (now passed the 600-day mark) is a sign of persecution.
Did you catch The Nation? "The Ongoing Persecution of Steven Donziger" captures and echoes the spin perfectly, hitting every note — prolonged house arrest, and all for a measly misdemeanor — from that song sheet circulating widely on the left. (No surprise, there are no verses about why Donziger is in trouble in the first place.) Here's how it begins:
On March 28, the environmentalist lawyer Steven Donziger spent his 600th day under house arrest in his New York City apartment — and Martin Garbus, the legendary attorney who is part of his defense team, warns that he could end up being confined for an astonishing five years. Donziger says that Chevron, with the help of two federal judges, is persecuting him, because in 2013 he helped win a $9.5 billion case in Ecuador against the oil giant for contaminating a stretch of the Amazon rain forest.

On March 29, the US Appeals Court of Appeals for the Second Circuit turned down Donziger's motion to be released on bail while awaiting trial for contempt. Donziger's attorneys argued before the court earlier in the month that he was not a flight risk, but the three-judge panel rejected their plea, keeping Donziger at home, monitored by an ankle bracelet. Donziger's contempt trial before federal judge Loretta Preska is due to start on May 10.
What more could a man whose chutzpah would make Ponzi blush want than a cavalry of progressive magazines coming to the PR rescue?
More persecution grieving comes from Salon:
The persecution of the attorney Steven Donziger is a grim illustration of what happens when we confront the real centers of power, masked and unacknowledged by the divisive cant from the Trump White House or the sentimental drivel of the Democratic Party. Those, like Donziger, who name and fight the corporate control of our society on behalf of the vulnerable see the judiciary, the press, and the institutions of government unite to crucify them.

"It's been a long battle, 27 years," Donziger said when I reached him by phone in his apartment in Manhattan.

Donziger, who has been fighting polluting American oil companies for nearly three decades on behalf of indigenous communities and peasant farmers in Ecuador, has been under house arrest in Manhattan for a year. He will go to trial in federal court in New York on Sept. 9 on contempt of court charges, which could see him jailed for six months. Ever since he won a multibillion-dollar judgment in 2011 against the oil giant Chevron, the multinational has come after him personally through litigation that threatens to destroy him economically, professionally, and personally.
Sticking with the theme and the word of the day, Counterpunch began its piece, "The Judicial Persecution of Steven Donziger," in nosebleed–high dudgeon:
For some, call them criminal-justice ingénues, it may be hard to believe this is happening in the United States, that our famed judiciary has sunk this low. But in the U.S., a judge acts as prosecutor and jury on behalf of a giant oil company, Chevron, as it destroys the life and career of human rights lawyer Steven Donziger. His crime? Daring to win a judgment against Chevron in an Ecuadorian court. For those less enchanted with the U.S. justice system, this is no surprise. But there it is. This judicial travesty is occurring in New York state. And the Chevron friendly judges — first Lewis A. Kaplan and his hand-picked appointee judge Loretta Preska, and now the U.S. court of appeals for the second circuit in a March opinion — keep ruling for the company, as they cage Donziger with house arrest, 600 days so far and counting.

The New York federal prosecutor declined to prosecute this case, which is based, Donziger says, on lies, so in an astonishing move, Kaplan appointed Chevron's attorneys. There will be no jury. Judge Preska will doubtless find Donziger guilty — of a misdemeanor that carries a maximum penalty of 90 days — though he's already been under house arrest for over 600 days. The message to the legal community is clear: don't mess with a fossil fuel company, because if you do, they will find a judge who favors the company and they will destroy you.
If that sounds like a variation of how The Guardian commenced its poor, poor pitiful Steve article — "The Lawyer Who Took On Chevron — and Now Marks His 600th Day under House Arrest" — that's because it is:
Many of us will have felt the grip of claustrophobic isolation over the past year, but the lawyer Steven Donziger has experienced an extreme, very personal confinement as a pandemic arrived and then raged around him in New York City.

On Sunday, Donziger reached his 600th day of an unprecedented house arrest that has resulted from a sprawling, Kafkaesque legal battle with the oil giant Chevron. Donziger spearheaded a lengthy crusade against the company on behalf of tens of thousands of Indigenous people in the Amazon rainforest whose homes and health were devastated by oil pollution, only to himself become, as he describes it, the victim of a "planned targeting by a corporation to destroy my life."

Since August 2019, Donziger has been restricted to his elegant Manhattan apartment, a clunky court-mandated monitoring bracelet he calls "the black claw" continuously strapped to his left ankle. He cannot even venture into the hallway, or to pick up his mail. Exempted excursions for medical appointments or major school events for his 14-year-old son require permission days in advance. An indoor bike sits by the front door in lieu of alternative exercise options.

"There's no comparison to quarantine because I can't even go outside for a walk. If my kid is sick, I can't go to the drug store to get a prescription," Donziger said. "I never truly understood freedom until I was put in this situation."
Hey, did you hear: Steven Donziger can't come out? And that he's being bullied? Well in case you didn't know, Esquire is determined you do, and titles a massive under-house-arrest interview "I've Been Targeted with Probably the Most Vicious Corporate Counterattack in American History."
There's plenty more of the teeth-grinding defense and side-taking. Can you stand just a headline? In December, Dan Abrams's Law & Crime published a melodrama titled "Steven Donziger, After Winning $9B Judgment Against Chevron, Has Been Under House Arrest for 500 Days Awaiting a Misdemeanor Trial." And from The Intercept, a threat — "Law Students Denounce Chevron's Law Firm Over Steven Donziger Case" — holds out promises of a "backlash."
How do you prefer your schmaltz? This one (also from The Intercept) is one of the best of the umpty-umpth pieces about the homebound conspirator, a heart-tugger that kicked off thusly:
Last August, during the second-hottest year on record, while the fires in the Amazon rainforest were raging, the ice sheet in Greenland was melting, and Greta Thunberg was being greeted by adoring crowds across the U.S., something else happened that was of great relevance to the climate movement: An attorney who has been battling Chevron for more than a decade over environmental devastation in South America was put on house arrest.

Few news outlets covered the detention of Steven Donziger, who won a multibillion-dollar judgment in Ecuador against Chevron over the massive contamination in the Lago Agrio region and has been fighting on behalf of Indigenous people and farmers there for more than 25 years. So on August 6, Donziger left a Lower Manhattan courthouse unnoticed and boarded the 1 train home with an electronic monitoring device newly affixed to his ankle. Save for the occasional meeting with his lawyer or other court-sanctioned appointment, he has remained there ever since.

"I'm like a corporate political prisoner," Donziger told me as we sat in his living room recently. The attorney, who is 6-foot-3, graying, and often used to be mistaken for New York Mayor Bill de Blasio when he was able to walk the city streets, was surprisingly stoic and resigned about his predicament during my two visits to the apartment he shares with his wife and 13-year-old son. But on this particular Wednesday, as the winter sunlight in his living room was dimming and the charger for his spare ankle bracelet battery flashed on a nearby shelf, his optimism about his epic battle against one of the biggest oil companies in the world seemed to be flagging. "They are trying to totally destroy me."
Talk about projection. And talk about a party — what a party! Who knows when it will end? And what attendees! Only the best.
Hey, maybe if you someday try to fleece a company for billions, they'll write glowing articles about you, too.
Fuente Original
Compartir: