The Latest Outrage In Steven Donziger's Suit Against Chevron
Forbes - Michael I. Krauss 01/07/2016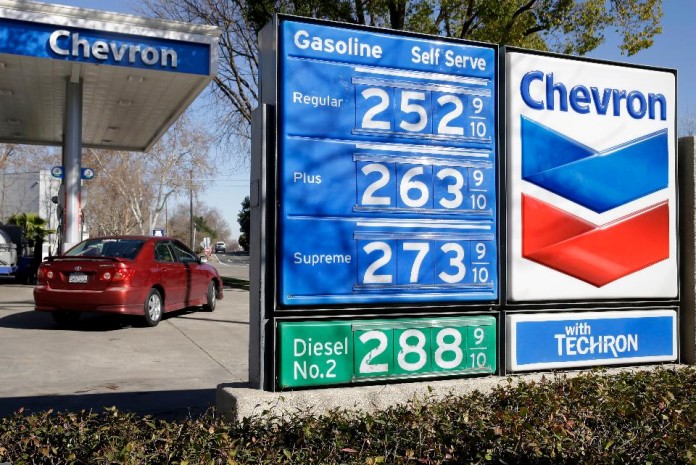 A Chevron gas station in Sacramento, California (AP Photo/Rich Pedroncelli, File)
As readers of this column know, I have devoted several entries to the massive litigation by Ecuadorean nationals against Chevron Corporation for damages allegedly inflicted on them by Texaco (purchased by Chevron) following Texaco's joint oil extraction venture with the government of Ecuador. [If you're a new reader, here's a link to a posting on the matter that contains other links to the rest of the story. That will put you up to speed.] The suit was ill-founded from the get-go: Ecuador, not Texaco, was the culprit, and some of the damages were exaggerated or even invented. Indeed, as United States District Court Judge Lewis A. Kaplan stated in exhaustive findings of fact, the final Ecuadorean judgment against Chevron was obtained through corruption.
Judge Kaplan's decision determined that the Ecuadorean plaintiffs, through their US counsel, Steven Donziger, in fact committed multiple racketeering (RICO-qualifying) infractions as part of a plot to purchase and even ghost-write the Ecuadorean judgment against Chevron. He therefore enjoined enforcement of the Ecuadorean ruling in the USA.
Now, on the heels of the Donziger plaintiffs' appeal of Judge Kaplan's decision, comes their latest outrage. They invoke an unrelated Supreme Court case, RJR Nabisco, Inc. v. European Community, decided on June 20, 2016. In Nabisco, the Supreme Court restricted RICO actions against foreigners to racketeering that caused domestic injury. The Nabisco Court declined to allow an American plaintiff to launch a RICO suit for damages suffered abroad and inflicted by a foreigner. RICO, the Supreme Court ruled, does not have such a long international arm.
The self-styled "Amazon Defense Coalition" has triumphantly declared Nabisco to constitute a "major setback" for Chevron. The Donziger plaintiffs assert that the ruling "underscores why Chevron cannot win" in its opposition to the plaintiffs' appeal of Judge Kaplan's decision. Donziger seems to be claiming that since Chevron was defrauded by Ecuador's judicial process, Nabisco prevents Chevron from invoking RICO to attack the adverse judgment.
A weaker legal argument is hard to imagine. Far from hurting Chevron CVX -0.64%'s case, Nabisco helps it. Judge Kaplan's factual findings are totally compatible with the framework laid out in Nabisco. For Judge Kaplan made factual findings that the pattern of racketeering took place in the USA. In addition, almost all of Chevron's (an American corporation's) damages (tens of millions in legal fees, loss of goodwill among American consumers who heard of the litigation, critical hemorrhaging of assets were the Ecuadorean judgment to be enforced, etc.) were suffered in America. And the Donziger plaintiffs' predicate acts of racketeering were largely committed in the USA.
In fact, Judge Kaplan anticipated, endorsed, and applied the logic of Nabisco. Here is a quote from the Judge's findings (on pp. 352-353 of the decision), with important language in boldface:
"In this case, the evidence at trial established that Donziger, a New York lawyer and resident, here formulated and conducted a scheme to victimize a U.S. company through a pattern of racketeering. That pattern included substantial conduct in the United States – e.g., the bulk of Donziger's overall supervision of the entire operation; much of Donziger's fundraising activity; the ghostwriting of the Cabrera Report, which occurred mainly in Boulder, Colorado, and was supervised by Donziger from New York; much of the pressure and lobbying campaign designed to injure Chevron's reputation and impact its bottom line and its stock price, a campaign micromanaged by Donziger that employed many U.S. public relations advisors and lobbyists; the making of Crude by a New York-based and recruited filmmaker; and the improper efforts to ward off discovery through U.S. courts of what really had taken place with Cabrera, Stratus, and the LAPs. Much of the funding came principally from Kohn in Philadelphia and Burford, which operated at least partly in the United States. Absent the U.S. activity, there would have been no scheme. Even had there been one, it would have been doomed to failure, without that activity.
"As we demonstrate below, all of the elements of the RICO claims, including the existence of a domestic pattern of racketeering activity, have been proved. It therefore suffices for purposes of this case to hold that the application of RICO to that domestic pattern of racketeering activity would not be extraterritorial."
This was not a ruling against the little man. Permit me to quote myself from my initial analysis of the case:
"Let there be no mistake: Judge Kaplan is far from a conservative partisan. Nominated by President Clinton in 1994, he has famously rendered procedural rulings in favor of Guantanamo detainees. But he is a straight shooter who does not believe that the poverty of an alleged tort victim and the wealth of a defendant entitles the plaintiff to judgment. "There is no 'Robin Hood' defense to illegal and wrongful conduct," he wrote."
Chevron has persuaded non-biased observers across the globe that it was railroaded in Ecuador. Far from having to pay for damages that Texaco didn't cause, Chevron has in fact been awarded $96 million plus compound interest by the Permanent Court of Arbitration in the Hague, as a result of Ecuador's breach of its contractual obligations to Texaco in the joint venture. In August 2015 the United States Court of Appeals for the District of Columbia Circuit upheld the "domestication" of this arbitral award. On June 6, 2016, the United States Supreme Court refused to hear Ecuador's appeal of that ruling. Now, in an excess of chutzpah, Ecuador concedes that it owes Chevron that money, but its courts want Ecuador to pay this sum directly to the Donziger plaintiffs, on the amazing grounds that these plaintiffs are Chevron's creditors by virtue of the corrupt Ecuadorean judgment. Needless to say, Donziger agrees with this "logic."
Memo to the government of Ecuador: if you pay over $100 Million to the Donziger plaintiffs, it won't liquidate your debt to Chevron under American law. You will have to pay that amount again. Your political grandstanding about Big Oil notwithstanding, reliance on corrupt proceedings won't prevail — not if the Rule of Law still means something.
Michael Krauss is Professor of Law at the Antonin Scalia School of Law at George Mason University, and is a nationally known scholar of Tort Law and Legal Ethics. His home page is here. 
Fuente Original